Chili and Chowder Cookoff Fundraiser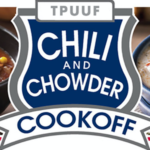 Did you feel the nip in the air this morning? Fall is upon us and what better way to celebrate than our upcoming Chili and Chowder Cookoff on Saturday, October 20 beginning at 5:00 pm. This will be an evening of food, fun, and fellowship as well as our main fall fundraiser for Thomas Paine. We need your help to make it a success!
If you have a favorite chili or chowder recipe, please sign up as a contestant! Contestants will bring a crock pot (we have some extra crock pots if don't have one) of their chili or chowder. If you feel ambitious, we are asking you to bring some extra to be put in quart containers (we will supply the containers) for sale after the judging (or to resupply your crock pot if your entry is a big hit).  Email [email protected] to enter.
Entries will be judged democratically by all participants (voting by tickets) by category (e.g. chowder or beef, poultry or vegetarian chili).
We also need volunteers to sign up for set-up and clean-up and to bring bread, chips, salad, desserts, beverages, etc.  And, of course, we need chili and chowder lovers to come and partake. We will have Karaoke singing and raffle baskets to win!
Cost for attendance is $10 in advance ($12 at the door) for all the chili, chowder and accompaniments you can eat. Quarts will be sold for $8 each ($10 for the winning entry in each category).
Please reply to [email protected] to enter (let us know what you plan to bring) or volunteer.
Most importantly, mark your calendar and plan to attend! And bring friends!