Music and Choir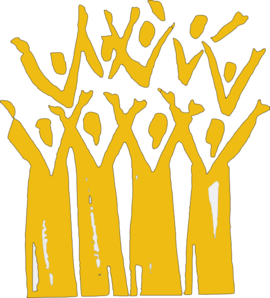 Music is an integral part of worship at Thomas Paine Unitarian Universalist Fellowship, and reflects the spirit and energy of our vibrant church community. Music empowers us to act upon our beliefs, inspires us to recommit to our covenant, and uplifts us so we can live each day with renewed spirit and energy!
Our dynamic and engaging music program offers opportunities for our members and visitors to participate through singing in our choir, the Fellowship Singers, and joining monthly community dancing & drumming.
Our Fellowship Singers Choir rehearses regularly on Wednesdays from 7:30 to 9:00 p.m. in the Sanctuary. The choir sings three Sundays per month and participates in many holiday and special events throughout the year. We welcome all levels of experience and are mindful of people's busy lives with flexible scheduling. We uphold Mindful Meeting practices as part of our weekly rehearsal process, which deepens our connection with each other and with music as a spiritual practice.
Music at TPUUF strives to actively engage our congregants during each Sunday service as the message that brings us together in community is served with integrity, diversity and spirit! Please contact our Director of Music, Marian Augustine, to learn how to become involved.