Online Financial Commitment 2023
Thank you for using the TPUUF online commitment form to participate in the 2023 Pledge Drive!
The annual financial commitment pamphlet is chock-full of information on our community's vision, its finances and challenges, and how you can participate to make our second half-century as momentous and historic as our first 50 years. Please use the Fair Giving Guide below, in addition to your own financial situation, to decide on a fair pledge for the upcoming year.
If you need to speak with someone before pledging, click here to email the TPUUF Stewardship Campaign Chairpersons, or the TPUUF Treasurer, Linda Weaver, and they'll be in touch promptly.
Please complete the following form and press the Submit button to send your pledge commitment to the TPUUF Treasurer.
Letter from the TPUUF President of the Board of Trustees, Preston Luitweiler: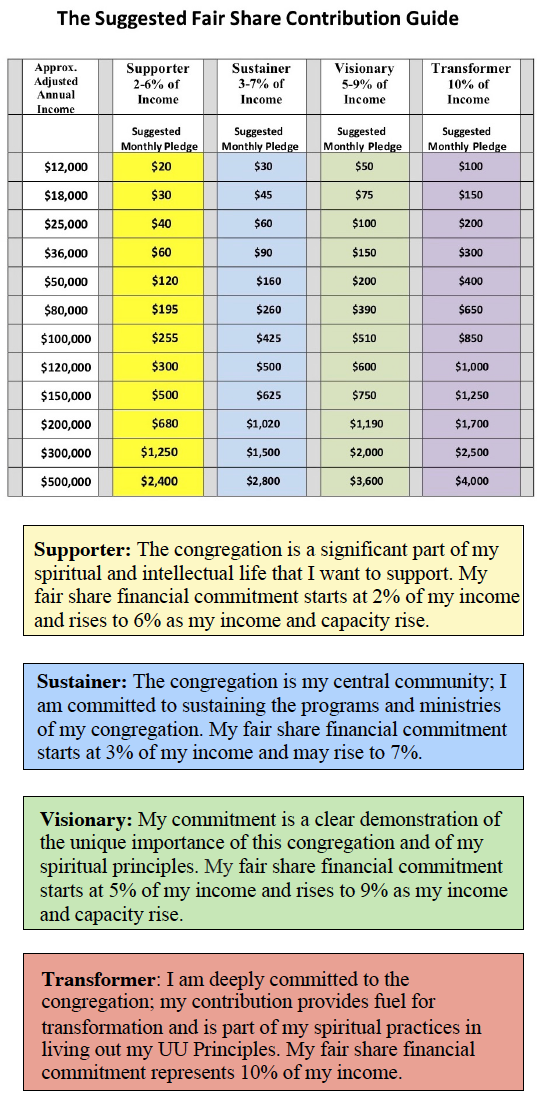 Dear TPUUF Members and Friends,
At this time a year ago, we were ending a year without a minister. Thanks to your continued support and reduced operating expenses, we entered the 2022-2023 Church Year (7/1/2022-6/30/2023) on a sound financial footing. We set a modest pledge goal target, but pledges came in below that goal. We now have a wonderful part-time contract minister,
Rev. Andrew Weber. Our membership is growing. The technology that our Tech Team has implemented for our "hybrid" services is working well. We are enjoying the improvements to our building that were completed with our Capital Fund when we were shut down by the COVID-19 pandemic.
For the coming 2023-2024 Church Year, we need to raise our pledge goal target and this year we must meet it if we are going to retain our minister, pay other expenses and break even. Please make a generous commitment to TPUUF in recognition of what our faith community means to you.
Thank you!
In Fellowship,
Preston Luitweiler
President, TPUUF Board of Trustees
Proposed 2023-2024 Budget $73,082.00
Pledge Drive Goal $73,000
MINISTRY                            $46,813.00
PROGRAM EXPENSE           $3,700.00
RELIGIOUS EDUCATION      $1,200.00
OFFICE & ADMIN                  $8,000.00
MEMBERSHIP & COMM       $1,000.00
SOCIAL ACTION                       $300.00
UUA DUES                            $4,469.00
UTILITY SERVICES               $6,600.00
BUILDING & GROUNDS       $1,000.00
TOTAL                                 $73,082.00
This proposed budget allows our Fellowship to continue in-person and hybrid Sunday services and Children's
Faith Development, maintain our beautiful grounds and building, and nurture our caring community.